You worked so hard your whole life. You put lots of energy, money, time and faith into your life goals. You helped people, you gave and gave and gave again.
You sweated,
you wept,
you fought,
you bore life pains
...because you wanted to succeed.
Then it was over.
The verdict. -> It was a waste. All you did was for naught.
"What?," you say. I worked so hard. I gave so much. I tried so hard. I thought this was the way. I didn't know any different. (or maybe you did and didn't care)
Could you IMAGINE if this happened to you?
FRIENDS!!!!! Please! I write this to you because WHAT WE DO WITH OUR LIFE DOES MATTER.
There is a GOD!
There is a heaven! -> PRAISE THE LORD
There is a hell!
There is HOPE! ...and His name is Jesus.
Do you know Jesus? Do you know that He is our ticket, our salvation, the WAY, the TRUTH, the LIFE? Do you realize that you are hell bound without Him?
If you want to know more about HIM, please click on the red links. If you already know Him, do your friends?
I
f there was a hurricane coming through our town, we would be warning each other and helping each other get out of the way of danger. If there was a fire in a building, we would be the first to pull the fire alarm and we would do EVERYTHING possible to help people out of the way of danger.
So why are we ignoring the biggest danger yet. We live like there is no hell. Our friends know we go to church but do they know what that entails.
Beth Moore described the Revelations 20:11-15 in one of the saddest yet eye-opening ways yet.
Revelations 20:11-15 "And I saw a great white throne, and him that sat on it, from whose face the earth and the heaven fled away; and there was found no place for them. And I saw the dead, small and great, stand before God; and the books were opened: and another book was opened, which is the book of life: and the dead were judged out of those things which were written in the books, according to their works. And the sea gave up the dead which were in it; and death and hell delivered up the dead which were in them: and they were judged every man according to their works.And death and hell were cast into the lake of fire. This is the second death. And whosoever was not found written in the book of life was cast into the lake of fire.
She said that when those who don't follow Christ get to Heaven they will realize three powerful things.
They will realize that HE IS LORD! They will then realize that THEY ARE LOST and then they will realize that IT's TOO LATE!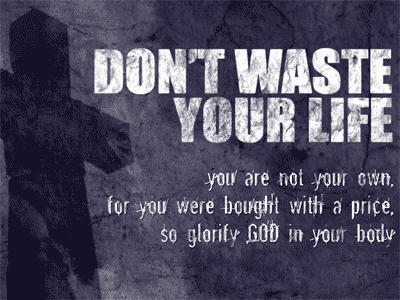 Friends, they will realize that their life is a waste. HOW SAD! Life is a vapor. You are not promised tomorrow. God does not owe you another day.
Ps. 39:4-7 says"
Lord
, make me to know mine end, and the measure of my days, what it is: that I may know how frail I am.
Behold, thou hast made my days as an handbreadth; and mine age is as nothing before thee: verily every man at his best state is altogether vanity. Selah...
my hope is in thee.
MY HOPE ->Rejoice!!!! We have a chance to escape Hell, which was created for only the devil and his angels. Rejoice, we can spend eternity with Jesus in Heaven. Rejoice and live like there is a HELL. Stop your friends from going there. Tell them. Live like there is a Jesus.
Live like your life and your friends life counts on it! DON'T waste your life! Good works won't get you to heaven BUT they could save someone's life. Someone may come to Jesus through your light. Live like there is a HELL - Rejoicing in the Present