I would be content to NEVER look at another counter-top AGAIN! :-)
We did soooo much research and shopping. I originally wanted laminate, but then, after a bit of shopping, I decided their styles were "too much" and I wanted a butcher block. Butcher block would have been perfect with the old farmhouse style I was wanting.
However, after I did the research, I found that butch block took LOTS of work to keep up. Pricing was not too bad and the look was beautiful; however, the upkeep and ages of my children, in combination, pushed us away from that.
I went back to laminates while glancing over at solids and granite a few times. When I sat down with the counter-top designer at Lowe's, I found out that, with the specials they were having, it wouldn't be a huge difference to get a solid. We found a basic stone that complimented our theme.
Next we had to look at sinks. After talking to friends and family, we quickly realized that the way to go was a stainless steel sink. We found a beautiful faucet from Lowe's, the Annabelle, that was exactly what we were looking for.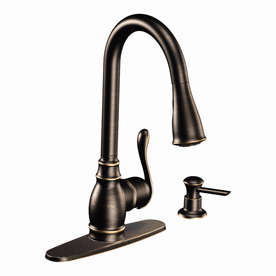 After deciding on all the styles, colors and types, we put the process in motion. Lowe's coordinated it all and it was very easy.
The one negative thing was that we were kicked back out of our kitchen again for about 48 hours while they were installing; however that is pretty normal with a kitchen remodel.
The counter tops turned out to be exactly what I was looking for! - Rejoicing in the Present