You know that moment.
You finally have all your kids smiling and looking cute. Everything is perfect. You go to take a picture and one glances the other way
or cries
or gets up
or pinches their sister.
Yep, that glorious moment!
Do you ever feel that LIFE is that way?
EVERYDAY???!?!?
Hahahaha
I get ya, girl. Me too!
We were just out-of-our-minds excited when we found out that we were going to have the opportunity to remodel part of our house in 2015. First we gave our kitchen a makeover, then we started on one bathroom which turned into the remodeling of three. Our forever-home was finally going to be finished. We even got a six-foot jetted tub so that I could give relief for my back and so that J. would be able to comfortably lay in it. Our dream bathrooms were finally within our grasp. After all the hours and frustrations that were poured in, it felt like we finally were going to be done.
...and then we got a call. A call from a pastor-friend asking J. to come serve in another state.
Now????

J. and I started praying about it.
Originally, I was fully against the idea. I told my husband right away that I didn't want to move. Of, course, I would go if God led us, but I myself just didn't want to go.
I wanted the Lord's will, but I was comfortable where I was.
I loved my girls that I ministered to.
I loved what God was doing in the areas of ministry where He had me.
I loved my house, my friends and my life.
...so I prayed for peace
...and God has given us peace.
With tears on my heart but peace surrounding it, I must announce that God is leading us to another place, another ministry, and another group of friends.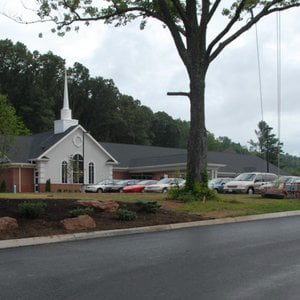 We attended this particular church the year before J. and I were married. We served in whatever capacities we could, so we do have a history there.

This is also the church where we were married so it holds a very special place in our hearts.
We are moving to Knoxville, TN and Jeremy will be the Assistant Pastor for Pastor Bobby McCoy at Oak Ridge Baptist Church.
We are excited to see what God will do with us there, but we are sad to so say goodbye to some very dear friends.
We are going to miss Faith Baptist Church and the family who embraced us here.
Please pray for us during this transition.
- Rejoicing in the Present